What is IoT Connector?¶
Zebra IoT Connector is a standard built-in feature inside RFID readers (FX9600, FX7500, and ATR7000) that makes reader deployment easy. It provides easy-to-use interface to manage, control readers as well as to extract tag data and events from readers. The interface is built on web-friendly protocols such as MQTT, REST and JSON-formatted data structures that can be leveraged by any web applications running on the cloud or on-premise.
Readers can push tag data and events to the cloud via MQTT. To push data to a local webserver, reader can also stream using HTTP Post. Applications can manage and control readers using either MQTT or REST interface.
System Overview¶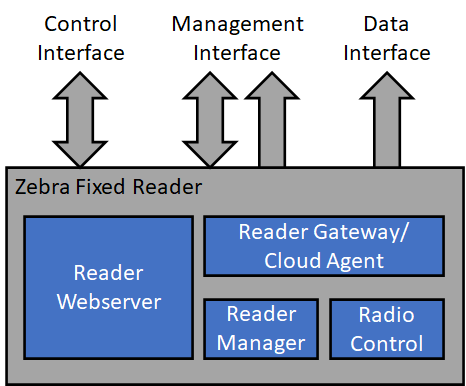 Interfaces¶
The Zebra IoT Connector feature provides four different interfaces as below, each can be configured to use a different endpoint of choice.
Management

Health

Control

Data
Reader Components¶
The reader contains a number of software components that enable Cloud Connect for RFID.